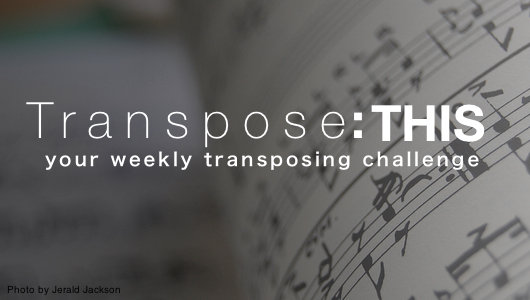 It's Transpose Tuesday!
Meet the Challenge
Every week we offer up a new transposing challenge.
Acoustic: Last week we asked you to take off the capo and on Alive by All Sons and Daughters and play the same riff. Whenever I have a droning open string I always figure out where I can play that note and then figure out the rest of the riff around it. In this example, removing the capo requires you to hold the 4th fret of the D string so I came up with these two ways to get the job done. Either would work.
Option 1

Option 2

I prefer the first way but that's just me.
Lead: I asked you to play the chords for the same song using a slide. First thing you would have to do is figure the chords without the capo. The song is in the key of Gb but capoed on the 4th fret played in D so using your nifty transposing cheat sheet you should have gotten Gb/Bb B (Cb since we're in Gb) and Db for your main chords. They are all major so I just eliminated the slash chord and played triads based on the root chord like this.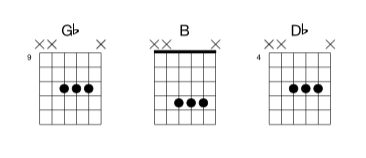 That make sense? Try it along with the song.
This Week - Break Open by Desperation Band
Acoustic: One of the most common capos for A is capoing on 2 and playing like the key of G. Give that a shot.
Lead: Try playing that lead tag in the key of E.
Get to Work
As always, relevenat links are tagged below and I'll be happy to take questions in the comments.