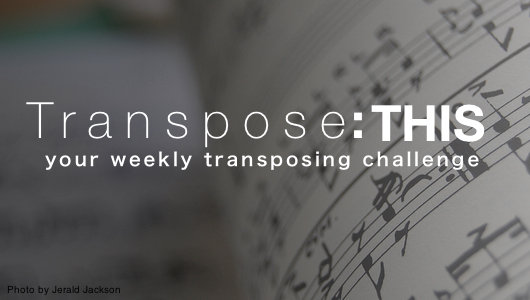 It's Transpose Tuesday!
One more day till Wednesday!
Every week we offer up a new transposing challenge. First the answers from last week...
Acoustic: Last week I asked you to take off the capo and still play When Mercy Found Me in the key of Eb. Your chords should have matched up like this:

As a bonus, I challenged you to keep your chords on the top 4 strings. Here's one option of how you could have done that.

Lead: I kept it pretty easy. You simply needed to move the opening slide riff to 2 different strings. Here's what you should have done:

and...

Simple enough?
This Week "Alive" by All Sons and Daughters
Acoustic: Try playing the exact same verse riff but without the capo.
Lead: Last week got me in the mood for slide. Why don't you try replace the riffs in the song with chords. The trick is you have to use your slide to play the chords.
Get To Work
As always, the comments are open for questions.