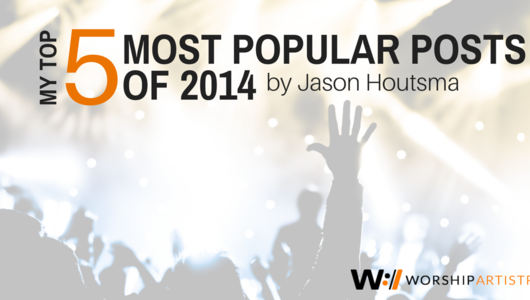 Top of 2014
Here's what you loved the most
With 2014 came the launch of The Green Room which many of you have described as your favorite new feature of Worship Artistry. We've generated some great teaching, great conversation and plenty of laughs. Turns out worship musicians are a pretty snarky bunch. Enjoy the Top 5 of 2014!
Killer guest post by All About Worship's Wisdom Moon on the attibutes you should be looking for when evaluating new worship team members. We should all be one of these.
Learn a little and laugh a lot. We had some great additions in the comments section.
This 4 part series takes you through my journey to teaching Lincoln Brewster's Miraculum. We took some surprising turns and I relearned what it's like to be the student. Well worth the read.
One of my very first posts and still one of the most popular. I plan on taking on plenty more keys this year but this should keep you busy to start.
This one is basically a laundry list of everything I've done wrong over the years. This one will make you laugh and cringe as it holds up a mirror to the ugly habits we can develop as worship musicians.
Enjoy these now. We've got lots coming in the new year.