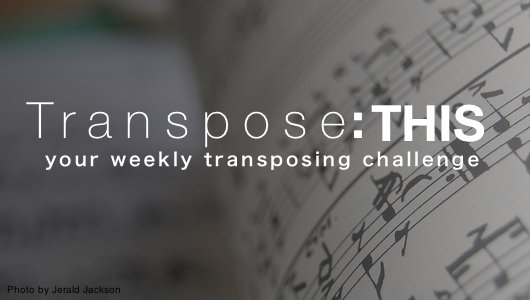 Transpose THIS
Is it Tuesday already?
Last week you were asked to take "You Make Me Brave" and transpose it to C (essentially just removing the capo) and then capoing it on 3 to play A shapes and 5 to play G shapes. The beauty of getting comfortable with transposing is that it opens up options for different voicings. Even if a song is in the key of G, capoing up and playing C shapes adds a totally different sound and that makes you a more versatile player. Versatility is awesome. On to the answer:
We'll use the intro progression of F2 Dm7 C/E C to illustrate.
To go from C to A shapes (Capo 3):

Your chord shape progression now becomes: D2 Bm7 A/C# A
And C to G shapes (Capo 5):

Your chord shape progression now becomes: C2 Am7 G/B G
Lead Guitar Answer
In this one I asked you to transpose the intro riff from Eb to G. You run out of frets going higher so you have to drop the riff down an octave. Personally I find it easiest to drop the Eb riff an octave and then count up 4 frets up to give me this:

I offered bonus points (which are worth only the knowledge that you are skilled since this isn't an actual test) for not using the high E string. That should have given you this:

Acoustic - The song is in the key of A. This week you're going to keep it there but your going to capo somewhere and play it with G shapes. You can test it by playing along with the recording. It should match.
Lead Guitar - This one's going to be tricky. The song utilizes a droning open string. Lower the key to F and figure out how to keep that drone going over the intro.
Get to work
As always I've attached the relevant links below and will take questions in the comments section if you need help.