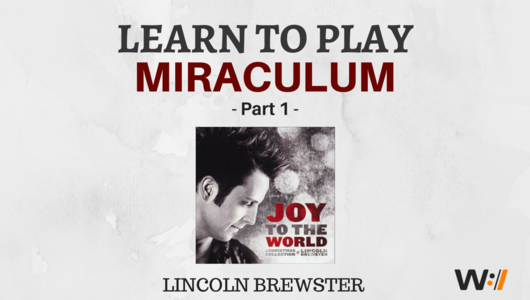 Learn to play Miraculum by Lincoln Brewster
Week 1
Last year, Lincoln Brewster released Miraculum, a 6-minute Epic Christmas Guitar Extravaganza created to not only celebrate the birth of Christ, but to also make lesser guitarists pee their pants. Well, lose the Depends, my friends! (TM) We're going to learn it together. This is not an easy task. It will take practice. It will take planning. There will be times you lose faith but make no mistake! WE WILL CROSS THE FINISH LINE TOGETHER!!!!. Here's how it's going to work...
The Lesson
Rather than posting the fully completed lesson, I'm going to break the song up and post a new chapter each week. This will not only create more managable pieces, but will also help you stay on schedule so you can shred it on Christmas Eve. As of now, I'm planning on a 6 week time frame which will have the full song completed by December 11th. If you'd like to work ahead, the full tab and recording will be available in the lesson environment.
Additional Help
"Mastering Miraculum" is going to be a weekly Green Room series devoted to planning and troubleshooting. The truth is that I need to learn this song too. I've already identified phrases that are going to give me trouble and have begun practicing. I'm going to post my progress so you can get a sense of where you need to be as well as offer tips that I'm learning along the way. The comments section will also be a place to share your own struggles and triumphs.
Not An Esteemed Worship Artistry Member?
Fear not! Did you know you can now sign up for a free account that not only gives you 3 song lessons of your choosing, but also access to our all our 101 library? Well there is! Sign up here. You'll come for Miraculum and stay for the 250 song library that we add to every week. If you don't want to do that, you could always purchase the tab I'm using for this lesson from Praise Charts and try and follow along on the blog but of course, you'll be missing half the fun.
This Week
The song starts out easy enough following the melody of "God Rest Ye Merry Gentlemen". It's less about technical difficulty and more about memory. There are a number of similar phrases, but they all have slight variations and I had trouble keeping my head straight on a few of them. You can fingerpick this or use hybrid picking, but you'll need to keep a pick close either way. This section will also give you a good gauge on your ability to complete this song. If it seems way over your head, you're going to be drowning in a few weeks so maybe try electrifying this or this instead. Miraculum will be here next year. Speaking of drowning, if you (like me) are not really a speed picker you should start getting bars 60-63 under your fingers now. You can start with a metronome on a low setting and play through until it feels natural. Then crank it up a few beats.
Conclusion
There is nothing like seeing progress. If you dedicate yourself to mastering miraculum you are guaranteed to see it and that's my gift to you. Well, what are you waiting for? Let's get to work!
If you're new to the MIRACULUM series check out:
Part 1: Learning to Play Miraculum
Part 2: This Might Take a Miracle
Part 5: I Have a Confession To Make