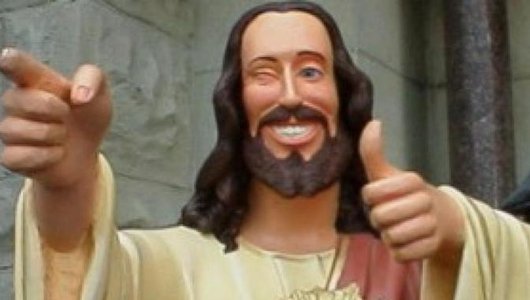 Jesus Is a Terrible Salesman And Other Impressions Of The NAMM Show
As a guitarist, I've spent years watching video of NAMM shows, lusting over boutique pedals and amps and watching in disbelief at the wildly talented musicians ripping through insanely technical solos to demo the high end gear. Having attended the show this weekend, i can say that there was no lack of talent or gear in the building. Here are a few lessons I took away from spending 8 hours in the worlds largest guitar center.
When it comes to playing lead, melody is king.
I saw jazz shredders, metal shredders, country shredders, blues shredders and every other kind of shredder you can imagine. While impressive from a technical standpoint, musically it all turns into white noise after about 5 minutes. By the end of the day, if a guitarist played a 5 note hook, I would have bought whatever pedal he were selling on the spot. It's cool to impress with technical ability but a little goes a long way.
Jesus is a terrible salesman.
Apparently every salesman at the NAMM show plays at their church and once they know you run a website for church guitarsts, they are happy to tell you all about...as they try and sell you a microphone. Implying that a piece of gear will "make worship better" is ridiculous. Its okay for us to want to create a certain kind of experience for ourselves and our community, but I certainly hope Jesus doesn't care about our sound system. If He does, those house churches in a China are screwed.
You don't need to talk when you're good.
The demonstrators with the best gear didn't do much talking, they just said, "Listen to this". The same thing applies to musicians. When someone wants to tell me how long they've been playing and how great they are, they sound like they're trying to convince themselves. You don't need to promote yourself. Let your playing do the talking.
Gear that promises to make learning easy is lying.
There are a ton of gimmicks out there but learning guitar is hard and no gadget can change that. Feel free to prove me wrong in the comments section.
Conclusion
All that said there are some people out there doing some really cool things and I'm looking forward to highlighting some of them in the the coming months. I also managed to make enough connections that I can demo pretty much any pedal made so let me know in the comments section what you want to hear.