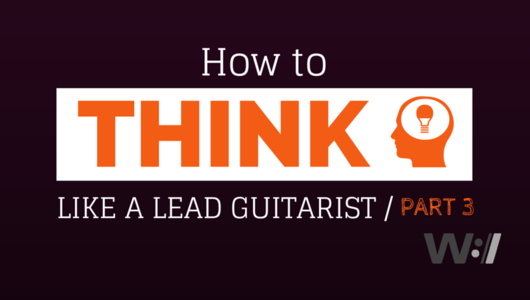 How To Think Like A Lead Guitarist
Part 3: Sparkle Guitar
It's one thing to know what notes to play. It's another to know how to think. So far we've talking about "Finding Your Frequency" and "Dialing Your Tone". In this chapter we're talking sparkle.
Sparkle Guitarist
Lead guitar is kind of a misnomer because we're not really leading. We're sparkling. The song is the beautiful dress and we are the diamond necklace that really makes the outfit pop. Too feminine? How about the song is that amazing steak and we are that little pat of garlic butter sitting on top that takes it to another level? Yeah, that sounds better.
This Little Light of Mine
So how do you sparkle? You look for those parts of the song that need a lift. Sometimes it's some single strummed chords over the chorus. If someone else is already filling that role, try playing some triads up the neck to thicken the tone or some octaves to emphasize a specific voicing. One of my favorite things to do is come up with some kind of counter melody over a section to give it texture. If the chords change a lot, I'll use a simple 3 or 4 note riff but if the chords only change once or twice, I like to play something that really moves. Phil Wickham nails the second verse on "This Is Amazing Grace" and All Sons and Daughters do the same on the chorus of "Hear The Sound". Another one of my go-to's is to follow a melody or lyric I really want to emphasize like Stu G does in the prechorus of "Majesty" by Delerious. The possiblilities are endless.
Conclusion
The thing to remember is too much jewelry is gaudy, too much butter makes you sick and too much sparkle guitar is distracting. Pick your spots and don't try to do too much and you'll make that song shine like it was meant to. I've linked a few songs that I think sparkle exceptionally well. The counter-melody on the verse of "In Tenderness" is killer. Have at them.