One Simple Trick To Spice Up Your Power Chords
I got the pow-wah!!!
I'll never forget the moment I learned the power chord. I stared at my teacher in disbelief. "You mean all I have to do is move this one shape around and I can play every Green Day song EVER?!!!" (To be fair, they only had one album at the time.) While power chords can blow a 15-year-old's mind, to the seasoned player they can become old hat. Here's a simple trick to breathe life and a little extra power into your power chords.
You should watch the video but if you need some clarification, scroll down for some chord diagrams.
The Basic Power Chord
The power chord is simply a chord made up from the 1 5 8 of the scale. The "power" comes from both the harmony of the 5th as well as the octave of the root. It has a very distinct sound and the shape looks like this:

Emphasizing the 5th
We can add some color without losing the power by replacing the root octave with an octave of the 5th. The shape looks like this:

Emphasizing the 3rd
As previously mentioned, a powerchord leaves out the 3rd, but if we want to venture away from the basic idea we can eliminate the 5th and use an octave to emphasize the 3rd instead. As described in the video, the shape will vary based on whether the full chord is major or minor.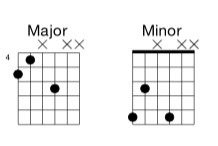 Conclusion
There is a place for power chords and every guitarist should have them in their repertoire but it's always fun to add a little spice. If you skipped the video I encourage you to at least watch at the 4:15 mark. It shows examples of how different octave harmonies sound and may give you some ideas for accompaniment. I've also tagged some song lessons below that feature power chords but may benefit from a little flavor. Have at it! As always, I'll take questions and comments below.