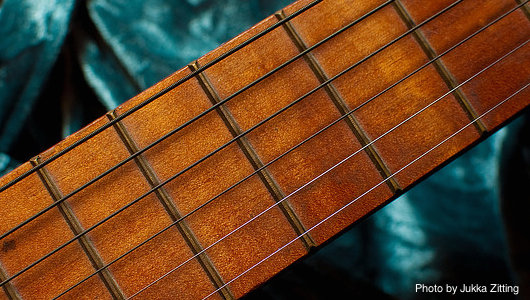 Finding Notes on the Guitar Neck
Let's just figure out how to find notes.
To make this work, you're going to need to memorize a few notes, but only the natural ones up to the 12th fret on the low E and A strings. Here they are:

The neck resets at the 12th fret (meaning the the 12th fret is the same note as the open string) so if we know our lower 12, we know our upper 10. So if you want to find the octave of your low G, look at the double dots on the 12th fret as the nut and find your G.

We don't need to to memorize our sharps and flats because if we know our natural notes we just need to move up one for sharp and down one for flat. If I need to find an A# and I know that A is on the 5th fret, it's a momentary calculation to find the A#. Same thing works with the Bb.

So by knowing the natural notes on the low E, we can now quickly find any note on the string. The rest of the notes on the neck can easily be found by using the octaves across strings and for this you only need to use 2 forms. To find an octave from the E or A string you go "up two and over two". So if I need to find an A note on the D string or a D note on the G string I just do this:

The B string can be found just as easily but we use a slightly different shape. This time we use the octave of the D string and go up 3 and over 2 like this:

Finally your high E is identical to your low E so we already know that one. It takes a little while to get quick at it but before you know it you can figure out any note on the neck and you only had to memorize a few frets.
You've Got the Heart, We'll Teach You the Skill.

Try free for 21-days!