How To Own The Key of E
Get beyond the basic chord shapes
Ah, the wonderful key of E, sometimes referred to as the key of "EZ". There are countless college guys that think they have unlocked the secret of both worship leading and dating by learning that magical secret chord shape that can be moved up and down the neck with ease. (Don't act like you don't know what I'm talking about). The way that B and E string ring out into the atmosphere really sounds like music, especially when compared to that finger breaking F chord. Grrr. That F chord. While I have nothing against those droning chords, especially in the right context (see Jeremy Camp's "We Must Remember), there are so many other ways to take advantage of the key the guitar was meant for. In this post we will explore why this key works so well and I'll pass on some of my favorite chord shapes you may be missing from your repertoire. (Don't worry, they'll still impress the girls).
As we know from our Language of Music lesson, any note that is in a particular key can be added to a chord played in that key. The guitar only has 2 open strings (D and G) that are not members of the E major scale. Further driving the compatibility factor is that our ears naturally pick out the lowest and highest note in every chord we play. Since the highest string of the guitar is the root note of the scale, we can let it ring while changing the bass notes and it will always match the chord perfectly. For this reason, beginning guitarists often find these chords to be a Godsend. Now don't get me wrong. These chords are GREAT! I am all about beginners sounding good and if these shapes allow you to play the songs you want to play, I am all for it. Too often though, we get stuck in ruts and here at Worship Artistry, we are all about staying out of ruts. I'm going to give you the shapes in families, meaning each member of the family fits well with the others. It doesn't mean you can't mix them. In fact, you absolutely should. One quick note before we get started: Don't get hung up on the chord names. Essentially the key of E has 7 notes to work: E, F#, G#, A, B, C# and D#. Each note has its corresponding chord. Some of those chords have some really odd names. The general rule is that whatever the bass note is, that's the chord I'm assigning to that particula note. For example B11/F# is the chord for F#. Make sense? Let's get started.
The First Family
Now I know I just made fun of these chords but they are definitely the place to start if you don't know them already. Play them. Get to know how they sound and then know there are cooler sounding ones just around the corner.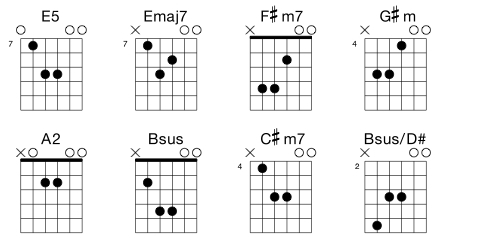 The Second Family
While the first family finds you sliding all over the fret board with similar positions, the second locks you down. Your pinky never leaves that 4th fret of the 'G' string. Dave Matthews popularized these in the 90's with his song "Crash". While I will make no comment on the song, the chords are very pretty and easier than the last group if you ask me.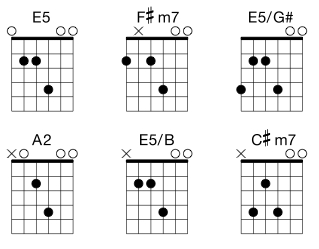 The Third Family
This group is like Crash chords on steroids. The droning G# adds a lot of color. I once wrote a song with these shapes and was immediately approached afterwards by people telling me it was their new favorite song. Of course, someone else wrote a letter offering to send me to school so I could learn how to actually write songs. Oh well. You can't please everybody. I really should have taken him up on it. Anyway, try plucking the bass note and then strumming through the higher strings. That, my friends, is music.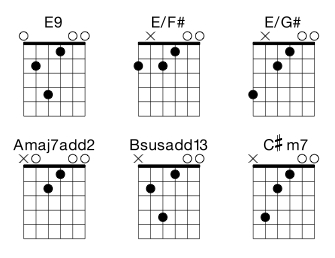 The Fourth Family
Here's another lockdown position but having the bass notes in the higher register give these a different feel.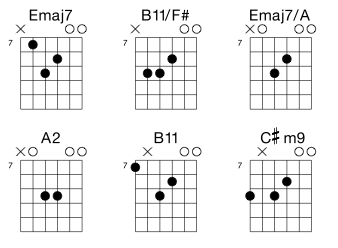 The Fifth Family
Okay, I'm not going to lie. This is going to get weird. Be careful with these as sometimes they fit a song really well while others they sound too dissonant. Middle finger stays glued to the 'D' string and pinky to the 'G'. Have fun and enjoy stretching your fingers to oblivion.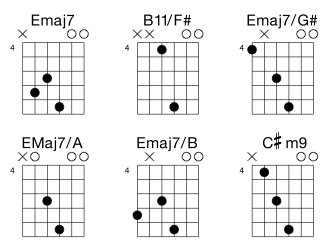 Get To Work
This is by no means an all-inclusive list. It is simply something to stoke your creativity. A great way to incorportate new chords into your playing is to substitute them into songs you already know. Try swapping these shapes into the following lessons then use the comments section to ask questions and tell me some of your favorite shapes. If you need further ideas, I put together this short video, improvising through the different shapes so you can actually hear how it's supposed to sound. Enjoy!