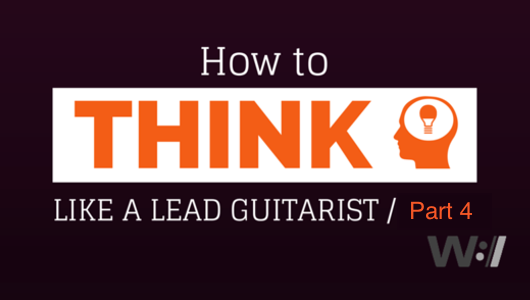 How To Think Like a Lead Guitarist
Part 4: Emphasis
You've found your frequency, dialed your tone and you're sparkling like a champ. Now it's time to learn to learn how to put the emPHAsis on the right sylLAble.
Double your pleasure
Sometimes playing lead is less about adding parts and more about emphasizing ones that are already there. One of my favorite tricks is to double a lead line that another instrument is already playing. Say your piano is playing a hook and all the other frequency ranges are full, try playing the exact same hook. You can do it in the same range as the piano or you can play it an octave higher or lower. If you really want to get crazy, you can double a with an octave shape.
Peace and Harmony
If you've got an ear for harmony, you could harmonize with the hook. Even if your ear doesn't naturally go there, you can easily add a 3rd but taking the melody note and going up two additional notes in the scale. You do have to be careful with this one. A well placed harmony can be a really nice touch, but if you overdo it you can end up sounding like a Best of Iron Maiden album. Just to be clear, that's not a good thing in a worship service. One way to avoid this is to only harmonize certain notes. For example, if the piano is playing an 8 note riff, maybe you only play on notes 2, 6 and 8. You might be surprised at how a few well-placed harmonies can bring a tired riff to life.
Conclusion
In a good album recording, all the parts necessary are there. It doesn't mean you shouldn't get creative, but before you venture outside the lines, see if there is a place within them that will accomplish the right tone.