Adding Members to Your Team Account in Worship Artistry
Invite your whole worship team to their new Worship Artistry accounts with these easy steps.
We're delighted that you're equipping your team in their musical journey with us! You've just given your members the gift of over 500 licensed song lessons in all Worship Artistry instruments: acoustic guitar, electric guitar, bass, drums, keyboard and vocals. All accounts access all songs and all instruments, all with transposable tabs and chord charts.
You might find this post helpful if:
- you're considering purchasing Worship Artistry for your team
- you're upgrading from an individual account to a team account
- you've just purchased a team account and are ready to invite your members
Jump here if you're looking for an overview of Worship Artistry.
Let's get started.
Your registration is complete! Time to invite your team.
1. Log in and visit your "My Account" in the :// menu.

2. You'll see five option blocks, so select "Manage Team" in the middle.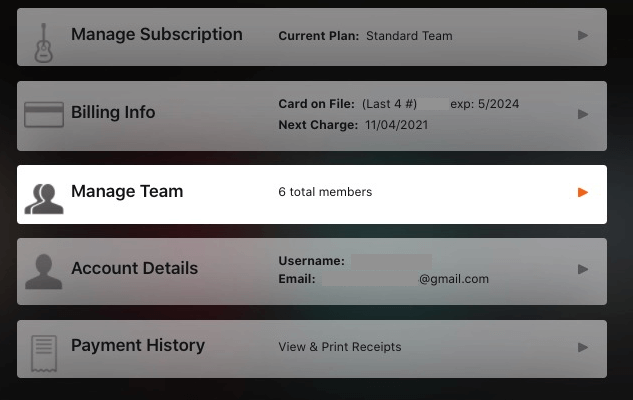 3. Here, you'll see your team member roster spots where you can add members' email addresses, names, and instruments. If you have a smaller team and are entering individual email addresses, you can use the top block. Ensure the "Send login instructions to members" is selected and select "Create Accounts."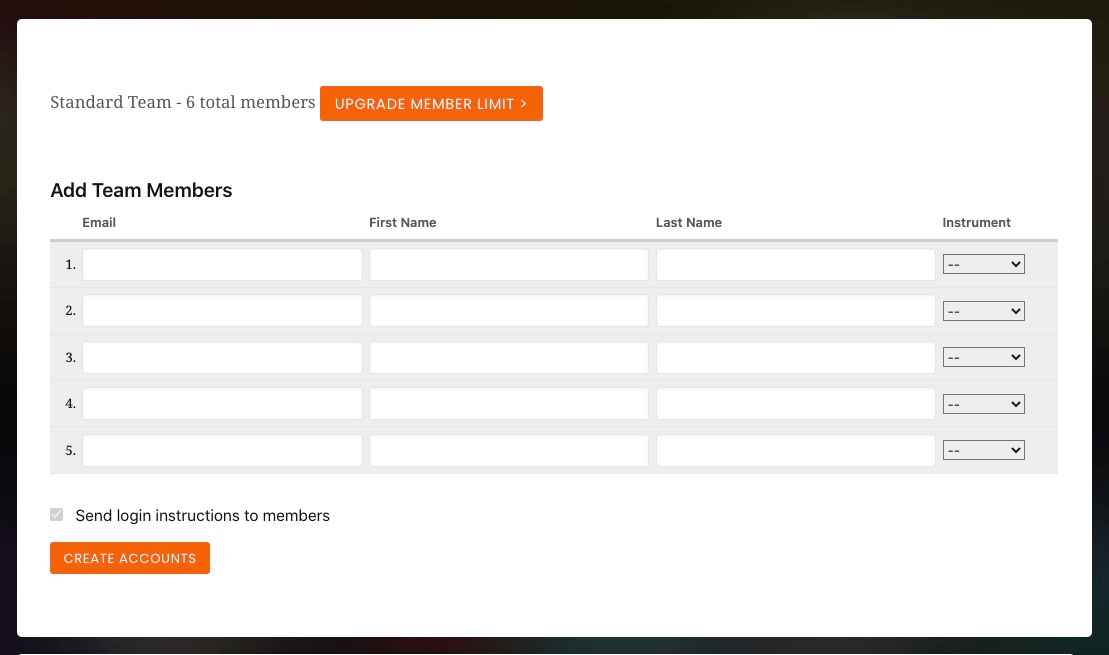 If you have a larger team and are adding a large list of email addresses, you can use the bottom, "Bulk Add" block.

Your team members will be sent an email invitation to log into their new accounts and they can start learning right away!
What's the difference between a team manager and team member accounts?
A team plan consists of a team manager account and their team member accounts. For instance, a six-member team has one team manager and five team members.
While you as the team manager will see five option blocks in your "My Account," your team members will only see two in theirs and they'll look like this:

The team manager accounts can view and change the plan size, Billing Information, Payment History, team roster, and team manager username, email, password, Favorites, and Recently Viewed. The team member accounts can only view and change their own team member username, email, password, Favorites, and Recently Viewed.
What if one of my team members is already a Worship Artistry member?
Not a problem.
If their account is active, instruct them to cancel their subscription. Try adding them again with the same email address held by their newly canceled account. Their login information will remain the same, but they'll be "adopted" into your team. They should be adoptable even if they have time remaining on their paid subscription.
If their account is inactive, add them with the same email address as their inactive account. Their login information will remain the same, but they'll be "adopted" into your team.
If you need help inviting your team member, don't hesitate to reach out to us at support@worshipartistry.com and we'd be happy to help you transfer your team member onto your team.
Can I replace team members instead of upgrading team size?
Absolutely. Purchasing a team size unlocks that number of team members, but you can change the roster at any time. Visit the :// Menu, then "My Account", "Manage Team," and "Add Members" to delete members, then add new ones. If you need to swap them back, follow the same process.
Keep in mind that when you delete a team member, you're removing their information from our system. If you'd ever like to add them back to the team, you absolutely can. However, their Recently Viewed and Favorites song lessons will have been removed from our system.
Can I change my account type to a larger or smaller package?
You can always upgrade. However, you can only downgrade just before your next billing cycle, be it monthly or annual. Visit the :// Menu, then "My Account" and "Manage Subscription".
If you are moving to a smaller team plan, you'll need to remove any members that exceed the new plan limit first and contact us. If you purchased an annual plan, you've paid for that year. If your team size decreases but you've already purchased a year plan, we encourage you to think of others (including young musicians) that might appreciate access to Worship Artistry. You can change your team members (within the same team size) by visiting your :// Menu, then "My Account", "Manage Team," and "Add Members."
I paid for an Individual subscription before my worship leader invited me to our team plan. Will I recieve a refund?
Not automatically. But we'd be happy to facilitate a prorated refund from your individual subscription if you paid within the last 30 days. We're glad to work with you in your particular situation.
If you have any questions about changing your plan, we're happy to help you out through our contact form or at support@worshipartistry.com.
Get the Most Out of Your Whole Worship Band
Try free for 21-days!